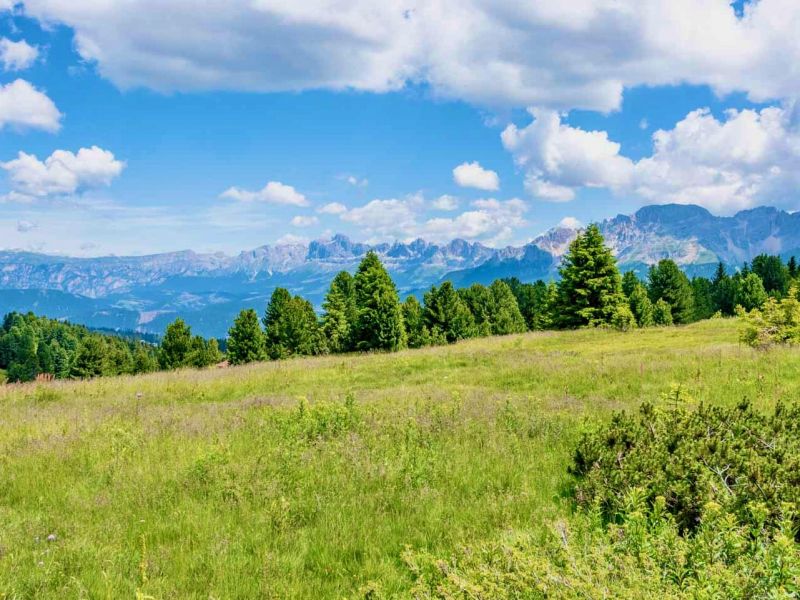 A view on the Latemar, Catinaccio and Sciliar mountain ranges
Scroll for more
POI
A view on the Latemar, Catinaccio and Sciliar mountain ranges
Look around - in 2009 UNESCO listed the Dolomites as a World Heritage Site for the aesthetic value of its landscape and for the scientific importance of its geology and geomorphology.
From your standpoint - looking backwards, opposite to the direction the Info Point footpath continues - you should be able to see in the distance the two rocky ramparts of the Catinaccio and Sciliar and of the Latemar mountain group.
The Dolomites are not a seamless range of peaks, but rather nine different mountain systems separated by valleys, rivers and other mountain groups. The 142 thousand hectares that make up the UNESCO asset are shaped like a sort of archipelago, a group of islands distributed over a much larger Alpine area. Sciliar, Catinaccio and Latemar belong to the System 7 of the Dolomites World Heritage Site. Shared between the provinces of Trento and Bolzano, System 7 is particularly interesting for its variety of rocks and shapes. As you can see, within just a few kilometres the Sciliar plateau is followed by the imposing and jagged wall of the Catinaccio and the unmistakable Latemar massif, characterised by small peaks and steep slopes.
Let's turn around now and continue on the footpath. Enjoy!